Most Crime By Repeat Offenders
Many of the crimes committed in Central New Jersey are committed by repeat and prolific offenders — those with more than five felony convictions. And the vast majority of those repeat offenders in Central New Jersey share at least one type of crime in common — a drug offense — according to a Gannett New Jersey review of state conviction records. Starting March 18, 2007 you can search for any offender by name on the Home News Tribune's public records site. Visit www.thnt.com/DataUniverse and click on "NJ Conviction Records" to begin your search. The records, once available only from courthouse computers or from Internet information vendors who charged up to $50 a search, are free to review on DataUniverse.

http://www.thnt.com/apps/pbcs.dll/article?AID=/20070318/NEWS/703180446/1001
The Sex Offender Registry You Can't See
Under the so-called "restricted" sex offender registry 41 convicted sex offenders have successfully petitioned the Connecticut court to limit access to that information. Their status as a sex offender will be known for "law enforcement purposes only." The statute says in part that shielded registration is available when there is a family relationship between the offender and the victim, and if the court finds that "publication of the registration information would be likely to reveal the identity of the victim." At the end of February, there were 4,529 on the public registry. Another 41 were on the restricted list, according to the executive officer for the registry, state police Sgt. Samuel Izzarelli.

For More Information Go To: http://www.journalinquirer.com/site/news.cfm?newsid=18113732&BRD=985&PAG=461&dept_id=161556&rfi=6


Licenses May Identify Offenders
TULSA, Okla.- A new bill is being considered in Tulsa, Oklahoma which would tell if someone shouldn't be around kids. The place to be at least Monday afternoon is the playground at Eisenhower International School. But the school isn't a place where registered sex offenders should be in or around and at least one parent says she does worry about that. A proposed law would make it so registered sex offenders could be identified by their driver licenses if they went into a school for something like a delivery. Some parents say it's a great idea while others aren't so sure. "It would be different if the words pedophile were on there-- but sex offender may be something stupid somebody did in college-- I mean it covers a huge variety of offenses and to me-- it's too vague-- it's too big." "I know they give fake addresses and you don't know where they are all the time-- and once you show that id then you'll know they're a registered sex offender."
For More Information Go To: http://www.fox23.com/mostpopular/story.aspx?content_id=9097a809-19a9-4036-9368-e432459eb61e
New Web Site Enable Internet Users to Obtain Any Information that is Public Record
Deerfield Beach, FL, 1866BackgroundCheck.com is a one of a kind website which brings to the World Wide Web the ease of finding public records that provide vital information to employers, businesses, and individuals. 1866BackgroundCheck.com creates a one source site where browsers can access direct links to US and global public records to check birth, death, marriage, and divorce records, credit reports, employment records, criminal records, insurance frauds, as well as migration records. "In the global world that is fast moving it is becoming increasingly essential to be able to verify confidentially information provided by potential employees, business partners, customers, and so on," revealed a company spokesman, "the internet is a maze where often valuable time is wasted in searching for accurate and reliable information, 1866BackgroundCheck.com will save time and money and bring the best gateways that enable background checks to one site."
For More Information Go To: www.1866backgroundcheck.com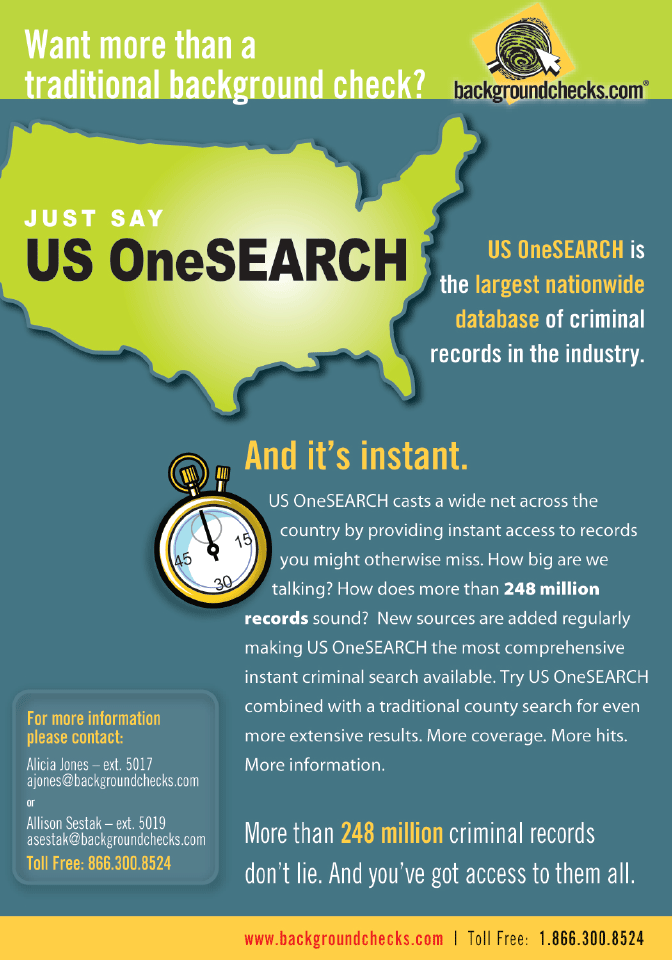 Two Firms Form Alliance To Offer Background Checks
The Bordes Group and Information Security Consultants, both located in Florida, have joined forces to offer employment background screening along with the other services they have provided for several years.Initially, the background screening service was offered to fill the gap in security programs of many of the firm's existing clients. It has now been expanded and is being offered to additional firms and agencies that have a need for an inexpensive and easy to access background screening program.
For More Information Go To: http://todaysfacilitymanager.com/facilityblog/2007/03/two-firms-form-alliance-to-offer.html
Easy Guns at Ranges Lend Themselves to Suicides
Yet another gun range is being criticized after suicides there. Like the fabled Don's Guns, lots of gun ranges offer rental firearms to anyone who walks in the door. And as a result, those gun ranges are seeing gun violence, most commonly in the form of suicides. Now, this incident is unlike many other suicides at the firearm range, because in this case, Hartzel was on the verge of actually obtaining a permit to carry or possess a gun. In many cases, firearm range owners will simply rent guns out, even to people who don't have permits and haven't gone through any background checks, for use on the range.
For More Information Go To: http://www.gunguys.com/?p=1969
EXCLUSIVE WEB SITE FOR PLATINUM MEMBERS LAUNCHED
We have launched our newest web site to exclusively promote our Platinum Members
We are committed to finding new and innovative ways to create additional sales opportunities for you. Stay tune for more exclusive Platinum web sites.
Nano Technology
Sorry to report there is no such new discovery by NASA, but the headline sure got your attention.

This is the power of a great headline and I could not think of a better way to demonstrate it to you.
Creating a successful webzine is an art form. Even so, there are a number of key considerations that will help your webzine stand out and to be a very effective marketing and communications tool.
Learn how to seduce your readers with a well crafted headline that will determine if your email gets opened and read or not. Create headlines that appeal to reader's emotions or create curiosity or that promise to solve a problem.
Remember we can help you create a webzine to send to your clients and/or prospects that will uniquely reflect your company's brand and image by creating a private label version of The Background Buzz just for you. Contact Barry Nixon at wbnixon@aol.com or at 949-770-5264 to discuss how we meet your marketing needs.
Take the Guesswork Out of Hiring Call Center Employees
In order to fill your call centers with the most qualified agents, you need to conduct assessments and simulations before the interview process even begins. Tossing a coin may be a good way to start a football game, but it's a lousy way to select new employees. Yet, tossing a coin is comparable to the hiring practices of most call centers. Many companies' processes for screening applicants may seem thorough. But they tend to suffer from a serious flaw, which is that companies don't see candidates in action before they hire them. When a company extends a job offer, the fundamental question remains unanswered: How will this person perform? Performance is only one uncertainty. Other questions persist. How does the candidate handle stress? Hiring practices seldom include observations of call center candidates under job-related conditions. With one company we worked with, the performance of the call centers was critical to the overall company's success. Faced with the continuing need to provide better service at lower costs in the call centers, they used us to help them rewrite their approach to screening, assessing and observing applicants. The success achieved was measurably greater than it was with the previous method of hiring agents, which was probably about as good as tossing a coin.
For More Information Go To: http://www.callcentermagazine.com/shared/article/showArticle.jhtml?articleId=198001486&classroom=
| | |
| --- | --- |
| | One of the true test of any association or organization is the added value it gives to its members. In today's fast pace environment busy professionals have to make choices about how to spend their time and which organizations they want to be associated with. The following is one person's experience that clearly demonstrates the value that NAPBS has contributed to him. |
According to Craig Caddell, Vice President, Reference Pro, 415-606-6365, http://www.referencepro.com/, "NAPBS has provided Reference Pro, a wholesale employment and education verification provider, with direct access to our target customer group. Additionally, the NAPBS Provider Committee has given us a voice and an opportunity to contribute to the guidelines for verifications and references in the industry. We are very proud of the rapid progress NAPBS has made and our role as a founding member."
What's the use of an online system too difficult for your clients to use?

InstaScreen™ background screening software is so easy to use that your clients will actually enjoy placing orders!

If your current applicant screening system is so cumbersome it discourages end-users from using it, you owe it to yourself to choose a system your customers will actually use. Imagine receiving more orders and saving your processors valuable time by getting your clients to enter the orders for you.

Simple and powerful, InstaScreen™ is intuitive, easy to use, and flexible to accommodate your clients specialized needs.

Call (801) 572-7401 or visit www.tazworks.net and demo our easy-to-use technology first hand.


New Nano Technology Threatens to End Miraculous Growth of Background Screening Industry
An amazing discovery has been made by NASA scientist who have been researching nano technology applications use as an unique way of identifying astronaut when they return from trips to outer space. In a series of test scientist have been successful identifying specific astronauts with a nano device implanted in the left arm that can be read from as far as 5 miles away with new radio way similar to RFID.
Click Here To Read More About This: XXXXXXXXXXXXXXXXXXXXXXX
HAVE YOU VISITED OUR VENDOR SHOWCASE LATELY?
Looking for the Top Suppliers in the Industry? Need to find a new Supplier?
Visit PreemploymentDirectory.com's VENDOR SHOWCASE which features suppliers to the Background Screening Industry (go to www.PreemploymentDirectory.com, click on 'Click Here' and then scroll down to Vendor Showcase for Background Screening Industry Suppliers)
One Place! Many Suppliers!

IntegraScreenTM Partners with British High Commission for Document Verification New Screening Process to Speed up UK Visa Applications
Mumbai, Maharashtra, India, The British High Commission in India and I IntegraScreenTM, an international provider of document and information verification services, today announced a voluntary scheme to expedite the processing of visas for travellers to the UK. Applicants for U.K. visas can now choose to speed up their applications by sending their documents and related information for verification to IntegraScreenTM. The new scheme also includes VFS, the British High Commission's commercial partner, who collect and dispatch visa applications for the U.K. Customers who wish to use this service – which is not compulsory – should first complete a form available from VFS or at http://ukvisas.integrascreen.com. They can then submit the completed form, and the fee for verification, along with photocopies of supporting documents, to any VFS application centre. For customers who wish to go to the UK on a temporary basis (e.g. students, HSMP), the verification fee is INR 5,900. For customers who wish to live permanently in the UK, the fee is INR 10,800. These fees are in addition to the visa fee, and are not refundable. Supporting documents are those such as educational qualifications and professional qualifications, employment details, bank statements and property ownership documents.
For More Information Go To: http://www.businesswireindia.com/PressRelease.asp?b2mid=12178
Indian BPO's fight CV fraud
Falsification of resumes, impersonators, in brief people recruitment is the biggest problem faced by about 15-20% of the IT-ITeS sector. The problem needs to be tackled at a country level, wherein the government has a unique identification number like the social security number in the US for every citizen. Cases of potential employees falsifying resumes exists in all industries. However screening of employees is more stringent in BPOs mainly to maintain a secure environment where customer data is protected and to eliminate information security breaches.To solve these problems, Nasscom had launched the National Skills Registry (NSR) in January 2006. The NSR is a centraliszd database of employees of the IT services and BPO companies, which many companies use to run background checks on their employees. Currently, a little over 50,000 employees from around 32 companies including Satyam, TCS, Genpact, WNS, Wipro and Firstsource have registered with the NSR, according to Nasscom.
For More Information Go To: http://scottgolas.typepad.com/iqcatalyst/2007/03/indian_bpos_fig.html
Ten Tales of Betrayal: The Threat to Corporate Infrastructure by Information Technology Insiders Analysis and Observations
This report offers an overview and analysis of 10 significant cases of information technology (IT) insider events in which trust betrayal occurred by an insider or former insider, having had legitimate access to a critical information system. The report details the abused or violated trust for personal advantage or to exact revenge on a person ororganization. In each case the actions of a disgruntled or self-interested offender seriouslydamaged or compromised the operability of a critical information system. The report also includes a discussion of common themes and patterns emerging from theexamination of these incidents and lessons learned from each incident having implications for corporate policy or national security.
For More Information Go to: http://www.ntis.gov/search/product.asp?ABBR=ADA441293&starDB=GRAHIST


Insider Threat Study: Computer System Sabotage in Critical Infrastructure Sectors
The insider Threat Study (ITS) was designed to analyze these incidents from both a behavioral and a technical perspective. The cases examined in the Insider Threat Study are incidents perpetrated by insiders (current or former employees or contractors) who intentionally exceeded or misused an authorized level of network, system, or data access in a manner that affected the security of the organizations' data, systems, or daily business operations. Cases involved incidents that have occurred in critical infrastructure sectors between 1996 and 2002. Research for this report found that the majority of the insiders who committed acts of sabotage were former employees who had held technical positions with the targeted organizations. As a result of their involvement in the incidents reviewed for this study, almost all of the insiders were charged with criminal offenses. The majority of these charges were based on violations of federal law. The key findings from this study of insider sabotage across critical infrastructure sectors are the following:
Click Here to Read the Key Findings: http://www.secretservice.gov/ntac/its_report_050516_es.pdf
"GOT INTERNATIONAL INFORMATION?"
Our intent is to continuous add relevant information to create a valuable resource that will be used over and over by anyone looking for information on doing international background verifications, vetting or verifications. It includes information on EU countries data protection and other laws, Canada, terrorist searches and much more. Also included is very practical information on time zones, locating cities, etc. Check it out and I am sure you will want to Bookmark it so you can use it over and over. To view the International Section go to www.PreemploymentDirectory.com and look under the line in the middle of the page:

PREEMPLOYMENTDIRECTORY.COM
Become a Platinum Member Today
PLATINUM MEMBERSHIP HAS IT'S PRIVELIGES
CLICK HERE TO LEARN MORE ABOUT HOW TO CREATE ADDITONAL SALES OPPORTUNITIES FOR YOUR FIRM AND TO BECOME A MEMBER OF THE PLATINUM CLUB

Are You Interested in Reaching Over 691,000 Human Resource Recruiters
Thru the Largest Recruiter Information Portal on the Web?
Onrec.com's Online Recruitment Magazine has become the #1ranked online recruitment information portal on the Internet.
If you are interested in finding out how we can increase the traffic to your web site and your sales visit us at http://www.onrec.com or call Tim Hartrich at 630-985-3006 today.
All Preemployment Directory.com members will get a 10% Discount on Enhanced Vendor Profiles. Call Tim Hartrich at 630-985-3006 and mention code: PD.COMWBN
Gunman Wounds 3, Kills Self At California Workplace
SIGNAL HILL, California (AP) -- A disgruntled employee shot and seriously wounded three co-workers at a menu printing plant Monday before killing himself as a SWAT team entered the building, authorities said.The man, about 67, entered Kenyon Press shortly after 9 a.m., walked past a superior and opened fire on three co-workers with a semiautomatic handgun, police Capt. Mary Risinger said.The business owner told police the man had indicated he was upset about a reduction in work affecting all employees, Risinger said. It was not known how long the gunman had worked there or when the cutback was announced."The employees recently had their hours cut back," Risinger said. "So he was upset about that, about not having enough work."
For More Information Go To: http://www.cnn.com/2007/US/03/05/workplace.shooting.ap/index.html
Infinity Screening is Real
Security increasing at DIA
The federal government is stepping up security at Denver International Airport, implementing random employee screening. In Denver, the agency recently began random checks of DIA employees moving from restricted parts of the airport - such as the tarmac - to secure areas on the other side of the main security checkpoints. DIA's 30,000 workers have to clear extensive background checks and threat assessments before they're hired, and they must scan their badges to access different areas of the airport. But they aren't subject on a daily basis to the same rigid process used to screen passengers. Under the new program, a group of handpicked TSA workers conducts searches of employees at unannounced entry points - at undisclosed times - around the airport. Employees must remove metal objects, jackets and hats and are subject to a pat-down and screening with a handheld wand. The checks, which the TSA implemented at more than 100 U.S. airports, are tailored for every type of employee, including mechanics, pilots, gate agents and customer service workers.
For More Information Go To: http://www.rockymountainnews.com/drmn/airlines/article/0,2777,DRMN_23912_5385491,00
Call Barry Nixon at (949) 770-5264 today to find how the Continuous Employee Post Hire Screening consulting can contribute to increased sales, revenue and increased customer satisfaction

JOB BOARD DEDICATED TO THE BACKGROUND SCREENING INDUSTRY :
| | |
| --- | --- |
| | Find resumes of people with industry experience and industry employers seeking industry experience. |
Employer/Recruiter Testimonials - "This is a super concept. Thanks for helping the industry." - RK Looking for candidates with industry experience! Visit backgroundscreeningjobs.com today!
2007 Background Buzz MEDIA RATES:
Click here for more information about advertising in The Background Buzz and PreemploymentDirectory.com (Sections: US Provider, International, Vendor Showcase.)
UPCOMING CONFERENCES & EVENTS:
CUPA-HR National Conference & Expo 2007, November 8-10, 2007, http://www.cupahr.org/ http://www.cupahr.org/conferences/conference/exhibitsponsor.html For Details on Regional Conferences go to http://www.cupahr.org/newsroom/news_template.asp?id=1982
Society for Human Resource Management (SHRM), Annual Conference, Las Vegas, NV, June 24-27, 2007, http://www.shrm.org/conferences/annual/
For Details on State Conferences, go to http://www.shrm.org/conferences/state/CMS_004287.asp
World Federation of Personnel Management Associations (WFPMA), World Congress, For Details on International events by date go to http://www.wfpma.com/dates.html


2007 Events (Click Here to View full list of 2007 Events)